Jacketing Fabric & Dipped Poly Cord for V Belt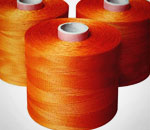 Polyester Cable Cord for V-Belt
The Polyester Cord (Cable Cord) are available in different ply i.e. 3x3 ply, 3x5 ply, 3x6 ply. The RFL coating on the Polyester Cord helps in bonding with rubber. Specification is available on request.
Jacketing Fabric for V-Belt
The Jacketing Fabric is made available according to the specification of the buyer. It is basically available in polyester cotton fabric and 100% cotton fabric in 265gsm to 310gsm weight. Specification available on request.