Air Slide Fabric/Fluidizing Fabric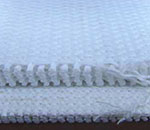 Air Slide Fabric are used for pneumatic conveying of fine dry products. It is indespensible for Cement Plants, Coal Fired Power Stations, Aluminium Plants, Fertilizer and Chemical industry.
The solid woven structure of the fabric helps to regulate air flow. The volume of air penetrates at a desired water gauge pressure through the Air Slide Fabric. Air Slide Fabrics are also referred to as Aeroslides, Aeration Pads, Fluxo Channels Fluid or arms, Fluidizing Fabric and Air Permeable Fabric.
Our Air Slide Fabrics are available in 2 variants and it is woven in 2ply, 3ply, 4ply & 5ply.
1) 100% Polyester Air Slide Fabric
2) Spun Polyester Air Slide Fabric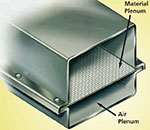 The Air Slide Fabrics are available in thickness of 4mm, 4.7mm, 5mm, 6mm and 8mm and upto a width of 1650mm. It is available in construction of Polyester Spun x Polyester Spun and Polyester Filament x Polyester Filament yarns.
Available width : 6" (150mm) to 65" (1650mm)
Standard thickness : 4mm, 4.8mm, 5mm, 6mm & 8mm
Construction : Solid Woven
Yarn : Polyester Filament, Polyester Spun
Other Name: Fluidizing Fabric
Uses of Air Slide Fabric
Power Stations :-
Filtered Dust, Flue Ash, Discharging Flue Ash, Coal Dust
Building and Construction :-
Cement, Furnace Dust, Gypsum, Limestone, Finely Ground Quartz, Calcium Hydroxide, Lead Monoxide, Quicklime, Acid Crystals, Pure Clay, Phosphates, Magnesite Concentrate, Finely Ground Fluoride, Production of Aluminum
Chemical Industry :-
Thomas Meal (Fertilizer), Rubber Compounds, Sinter Dust, Catalysts Sodium Sulfate, Soap Powder
Silos / Tanks :-
Discharging Systems, Warehouse Units, Mixing Equipment, Homogenizing Systems
Chute Bottoms :-
Conveyor Systems, Ventilator Systems, Aeration Systems
Vehicles :-
Silo Truck Discharging Cones, Railway Wagon Discharging Cones, Vessel Aeration & Discharging Bottoms, Container Aeration & Discharging Bottoms